Manual for climate activists

As the bachelor project thesis my group and I developed a manual for climate activists. The goal of the manual is to provide introductory, instructive and inspiring knowledge about environmental and climate activism. As much as moving to an
eco-society
, recycling more and changing consumption habits can have a big effect, this is not what you will learn in this manual. Instead, you will be able to read about how to spread the truth about the crisis, the message of the sustainable future, communicate with dissenting parties, put pressure on politicians and keep up the courage when it all gets difficult.
In 2018 The Danish Parliament introduced a new tool for direct democracy called 'citizen's initiative'. The new initiative enables Danish citizens to put an item of interest on the parliamentary agenda, if 50.000 people support it.
Our bachelor project initially wanted to support a specific citizen's initiative. The item
"Danish Climate Act Now"
proposed by 11 central NGOs in the danish climate movement. As it quickly reached the necessary 50.000 signees, we decided to support the general climate movement instead of this specific initiative.
Through out the project we included those 11 central NGOs behind the citizen's initiative in our design process.
The manual was developed with
Rikke Veber
,
Niels Kristian Tjelle
and
Oskar Jacobsen
.
Read the full manual [
in danish
]
here
.
~~ It is currently being translated to English
---
Example from the manual

"There are a sea of challenges you will face as an activist in the environmental and climate movement. For example, there are many who experience a feeling of enormous fear or frustration in connection with their activist work. Many of these emotions can seem paralyzing and make it difficult to engage in the fight. Add to that, the fact that few of us have the time or resources to be a full-time activist. That way, we do not exactly have to be challenged. In this chapter you will be able to read about some aids that may contribute to the challenges not seeming so great again.

It can be enormously time consuming to be an activist and you can quickly become overwhelmed by all the opportunities you have. If you live a busy day, but would like to be more active, we developed a short manifesto for the climate activist, that we named '5 Wise For The Activist'."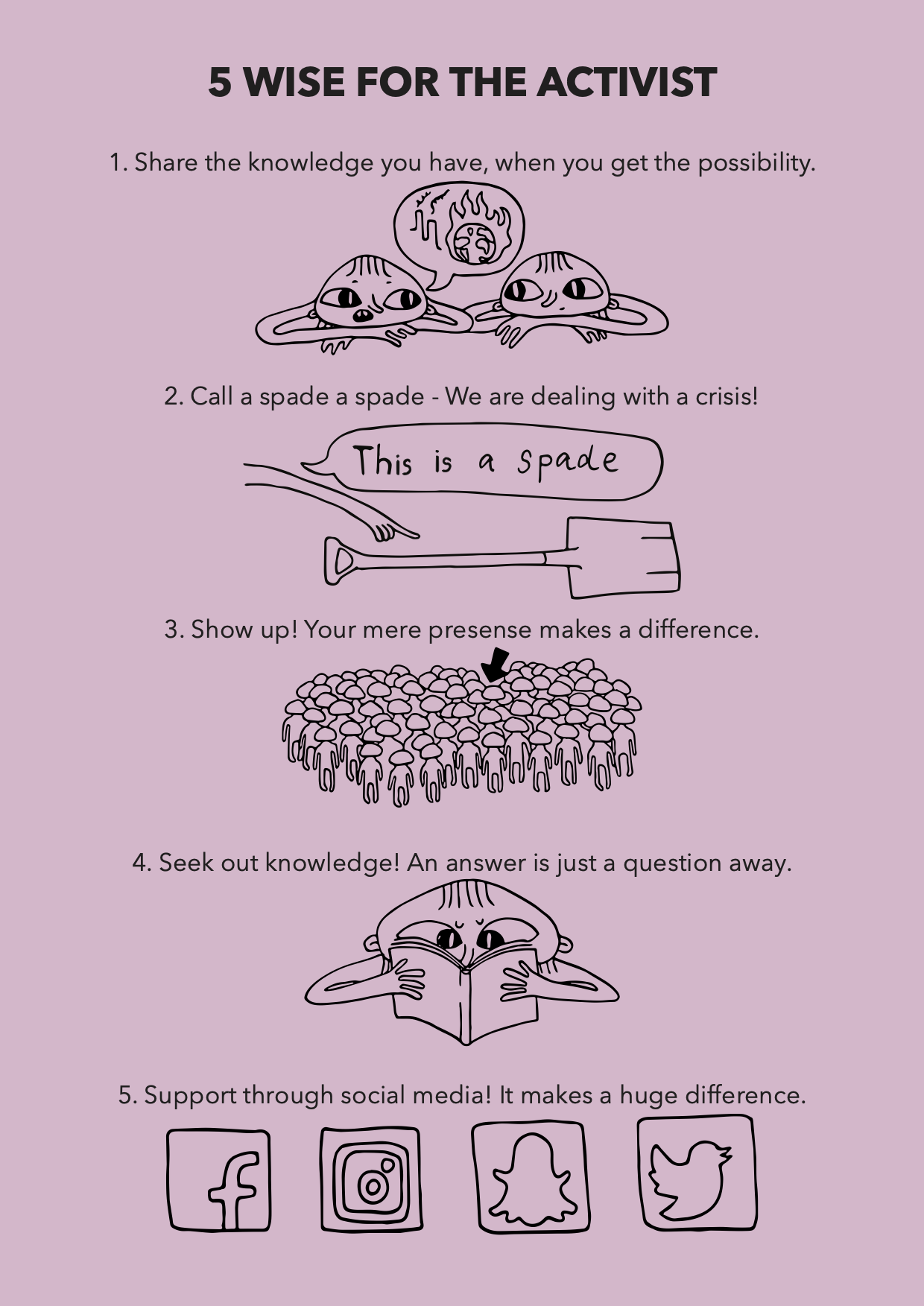 Knowledge partners
︎︎︎ Back to Works